Frequently Asked Questions
1. How soon can you deliver the FIFA 17 coins & points? Can you guarantee it?
We are one of the largest FIFA 17 coins & points suppliers, and our delivery time is amazing. We can ensure you will get coins within 15 minutes or up to 24 hours that depends on the status of our inventory and the game setting. Our deliver team are devoting themselves to improve the delivery time.

2. How can i contact you in need of FIFA 17 coins & points?
We get 24/7 customer service support for you. You can ask our support team via email or live support and they will be more than happy to solve your problems about payment and delivery. What are you waiting for? FIFA 17 coins & points store here!
Feedback
I ordered points account, received 30 mins after payment, wow, the guys did what they said on the homepage. happy now...

Scott

I have never had a problem and has to be hands down the fastest delivery time! Customer service is amazing :)

Retoric

They are very fast and customer service is always instant. Highly recommend to do business with them!

Kahyargil
West Ham United Signs First eSport Star - Sean "Dragonn" Allen
By Administrator, 05/07/2016
West Ham have become the first club in the UK to sign a professional video game competitor by employing esports player Sean Allen.
Allen, 24, who is known by his gaming name Dragonn, will represent the Hammers at Fifa video game tournaments. He was runner-up at this year's 2016 Fifa Interactive World Cup.Allen, who has been given squad number 50 and will wear a Hammers shirt at events, said: "This is the biggest thing ever to happen to me."
The FIFA video game franchise has grown into a hotly contested eSports discipline. Just like League of Legends, Dota 2 or Counter-Strike, players travel around the world to compete for coveted titles and cash prizes. Now, FIFA professional Sean "Dragonn" Allen has been signed by a legitimate football (or "soccer," as my American colleagues like to call it) club -- West Ham United, the same team that has Dimitri Payet and Cheikhou Kouyate among its ranks. Of course, Allen won't be competing in the Premier League -- he'll be representing the club at FIFA tournaments instead.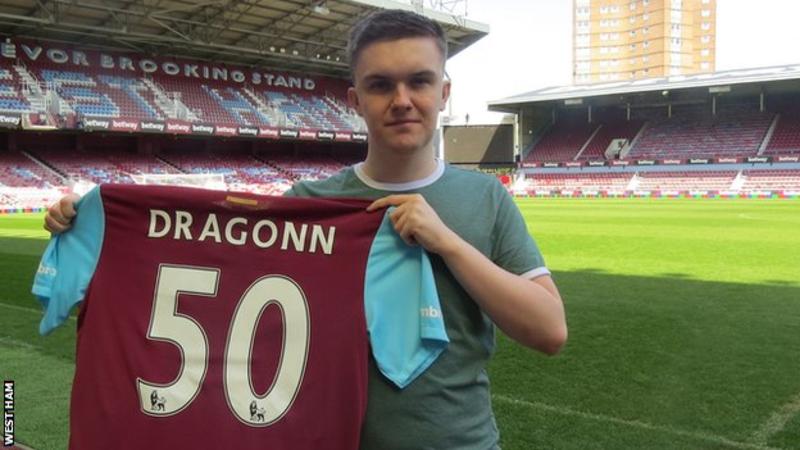 His first outing in a claret and blue shirt will be at Gfinity's "Play Like a Legend Grand Final" this weekend. He'll be competing for a $15,000 prize pool alongside 15 other players, who represent teams such as Epsilon, Millennium and Team Vitality. Just like a regular football game, fans will be able to watch online or at Gfinity's arena in Fulham Broadway, London.
The 24-year-old isn't the first FIFA player to sign for an established football club, however. VFL Wolfsburg made a similar move in May 2015, signing Benedikt "Salzor" Saltzer and Daniel "Dani" Fink through the gaming agency Stark eSports. The partnership was taken a step further in January, when the club signed David "DaveBtw" Bytheway, a 22-year-old Brit.
Right now, these sorts of signings feel like a novelty. But in the future, should eSports prove sustainable, it's possible more teams will take FIFA seriously and sign their own players. Then, if enough people are sponsored by official clubs, it might be possible to create a FIFA "mirror" of real-life football, with countless pros competing in national tournaments like the Premier League and La Liga. Imagine that. Maybe they could play in outdoor stadiums too, sat on the grass with some wireless controllers.