Frequently Asked Questions
1. How soon can you deliver the FIFA 17 coins & points? Can you guarantee it?
We are one of the largest FIFA 17 coins & points suppliers, and our delivery time is amazing. We can ensure you will get coins within 15 minutes or up to 24 hours that depends on the status of our inventory and the game setting. Our deliver team are devoting themselves to improve the delivery time.

2. How can i contact you in need of FIFA 17 coins & points?
We get 24/7 customer service support for you. You can ask our support team via email or live support and they will be more than happy to solve your problems about payment and delivery. What are you waiting for? FIFA 17 coins & points store here!
Feedback
I ordered points account, received 30 mins after payment, wow, the guys did what they said on the homepage. happy now...

Scott

I have never had a problem and has to be hands down the fastest delivery time! Customer service is amazing :)

Retoric

They are very fast and customer service is always instant. Highly recommend to do business with them!

Kahyargil
U4FIFA Offers Significant Member Benefits and Privileges to Registered Buyers
By Administrator, 11/27/2016
U4FIFA allows users to purchase FIFA coins for two games in the franchise at present: FIFA 16 coins and FIFA 17 coins. Coins are available for any platform these three games are on, ranging from the newest consoles like the PlayStation 4 and Xbox One to mobile platforms like iOS and Android.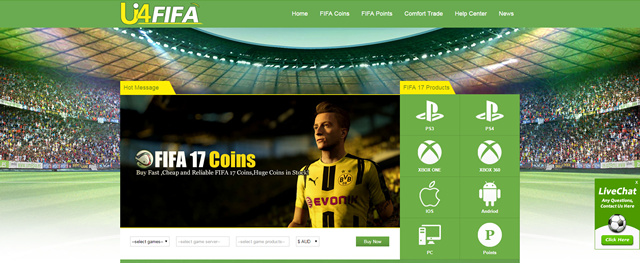 Recently introduced premium membership plans for its registered members. The owners of the online store recommended its buyers to sign up on the web store to enjoy significant benefits, although signing up is not mandatory for their fifa coins buyers.
A registered buyer or member can enjoy significant benefits on first purchase and on all other purchases made thereafter. They said that registered members can see and track their orders, and enjoy a host of features exclusively meant for members. However, the owners added that unregistered buyers are also welcome but they cannot track their orders and enjoy the member benefits and privileges.
"It is a common tendency of the online gamers to use wrong or fake email addresses to buy fifa coins, which is strongly discouraged. When someone registers with us with a valid email address, we send them all details pertaining to their order to their email address only", said a senior executive. "Also, new buyers should not use fake phone numbers while signing up with us. This is because we often call our users, especially sellers for phone verification. The phone verification process is one important step in the whole buying or selling process", added the executive.
U4FIFA now accepts various types of payment modes, including all leading credit and debit cards, Western Union as well as PayPal. The owners recently said whether someone is registered on the site or not, they can get in touch with their live chat team at any point and get payment related or registration related assistance. They also underscored that new or registered users need not to worry about payment safety and security while buying U4FIFA currency and other items.
Also, new users can now avail a 2% additional discount by following their official Facebook page, the owners maintained. They said that signing up on the site is easy and should be a non-brainer even for the least savvy people. However, customers are always welcome to get payment related assistance from their customer support team.