Frequently Asked Questions
1. How soon can you deliver the FIFA 17 coins & points? Can you guarantee it?
We are one of the largest FIFA 17 coins & points suppliers, and our delivery time is amazing. We can ensure you will get coins within 15 minutes or up to 24 hours that depends on the status of our inventory and the game setting. Our deliver team are devoting themselves to improve the delivery time.

2. How can i contact you in need of FIFA 17 coins & points?
We get 24/7 customer service support for you. You can ask our support team via email or live support and they will be more than happy to solve your problems about payment and delivery. What are you waiting for? FIFA 17 coins & points store here!
Feedback
I ordered points account, received 30 mins after payment, wow, the guys did what they said on the homepage. happy now...

Scott

I have never had a problem and has to be hands down the fastest delivery time! Customer service is amazing :)

Retoric

They are very fast and customer service is always instant. Highly recommend to do business with them!

Kahyargil
FUT 17 MOTM Orange Cards Guide
By Administrator, 11/04/2016
As you may know that MOTM is the abbreviation of "Man of the Match". These IF orange cards are given to players who have outstanding performances in real life cup fixtures, chosen by EA. So in this page, let's get information about these orange cards.
It is usual that FUT 17 MOTM cards are released at at 12am / midnight (UK time). About 100 MOTM cards will be released. These cards will be available in packs for only 24 hours. During the time, the orange cards will replace the corresponding regular cards. It has to mention that if you have the regular card of a MOTM player, your card keeps unchanged. If you want the orange card, then you should buy the improved version of the MOTM player. The ratings of FUT 17 MOTM cards are generally boosted in one or two points, compared to the regular or latest IF card (except TOTY, TOTS, RB). It is said that the first MOTM card will be released in November. MOTM Aduríz orange card is released offically, which is available for next 24 hours!
MOTM Aduríz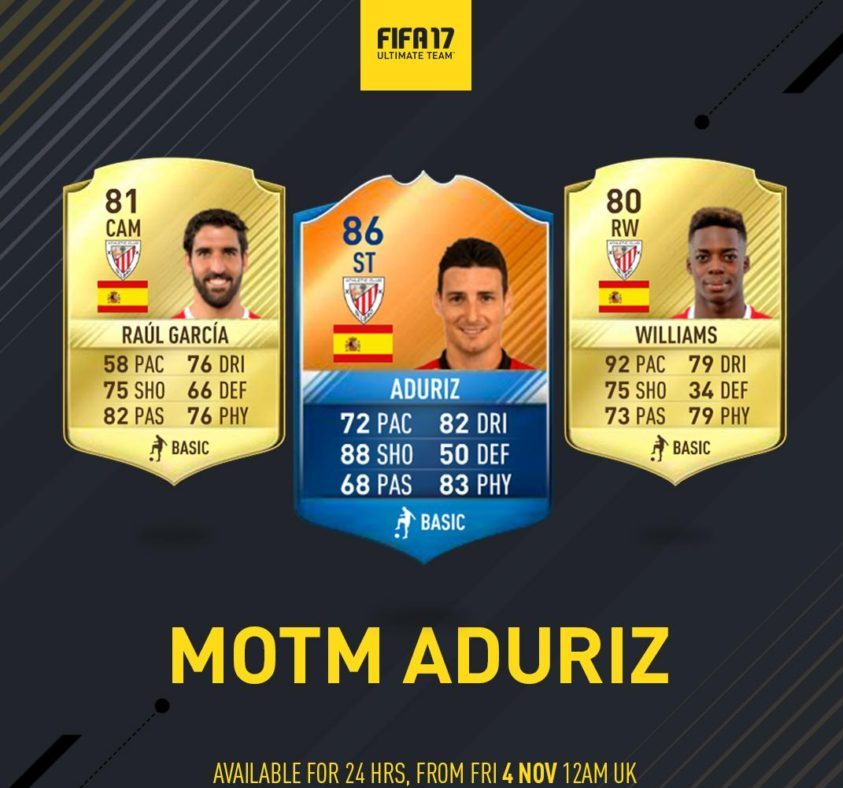 What do you think of ? It is available in any gold pack, you just need to get lucky to get it.
And below are FAQ you might care about.
Can more than one MOTM card be released in a single day?
Yes. In a single day, multiple MOTM cards can be released.
What affects Man of the Match player's prices the most?
When a MOTM player receives a higher rated inform, his orange card price probably will drop significantly. The opposite can also happen however. When a popular/high rated MOTM player doesn't receive another inform card for an extended period of time, his MOTM card will likely gradually increase in value as it is the superior card.
Are specific stats upgraded to reflect a player's MOTM performance?
If a player were to score two goals from outside the box for example, his long shots stat would probably receive a higher upgrade to reflect this. This is the case for any particular aspect of their performance.
Are FIFA 17 MOTM cards available in the FUT Draft mode?
Yes, they are available in all modes, including FUT Draft and FUT Squad Building Challenges.
Do you like special design? Are you still playing to be qualified for the Weekend League? May you good luck. Our website will provide you cheap FIFA 17 coins for you in the game. Particularly, the coupon code "ALL-V2SVW" gives you 5% discount to help you save money. Our coupon code will be updated on our facebook. Have fun with your game.