Frequently Asked Questions
1. How soon can you deliver the FIFA 17 coins & points? Can you guarantee it?
We are one of the largest FIFA 17 coins & points suppliers, and our delivery time is amazing. We can ensure you will get coins within 15 minutes or up to 24 hours that depends on the status of our inventory and the game setting. Our deliver team are devoting themselves to improve the delivery time.

2. How can i contact you in need of FIFA 17 coins & points?
We get 24/7 customer service support for you. You can ask our support team via email or live support and they will be more than happy to solve your problems about payment and delivery. What are you waiting for? FIFA 17 coins & points store here!
Feedback
I ordered points account, received 30 mins after payment, wow, the guys did what they said on the homepage. happy now...

Scott

I have never had a problem and has to be hands down the fastest delivery time! Customer service is amazing :)

Retoric

They are very fast and customer service is always instant. Highly recommend to do business with them!

Kahyargil
FIFA 17 Winter Transfers: Potential January Transfers
By Administrator, 12/13/2016
There are two times for FUT 17 transfer, which are January Transfer Window and Summer Transfer. Players move from their old squads to their new ones or returning players to their original squad after their loan deals have ended. January Transfer is on the way. Who do you think will be in the transfer? This page will gonna take you to look at some potential January transfers.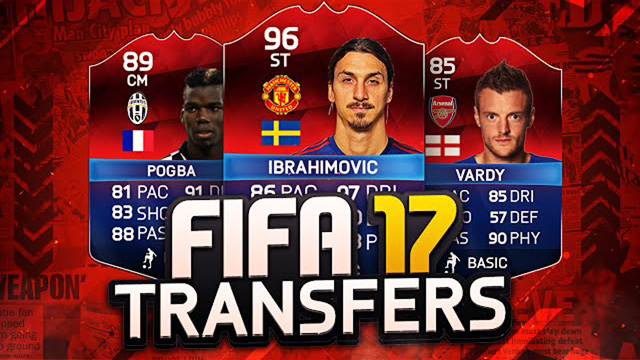 FIFA 17 Potential January Transfers
CB: Virgil van Dijk (Southampton) - 79
ST: Kasper Dolberg (Ajax) - 68
CAM: Julian Draxler (VfL Wolfsburg) - 84
CB: Mauricio Lemos (UD Las Palmas) - 80
LM: Memphis Depay (Manchester United) - 80
LM: Christian Pulisic (Borussia Dortmund) - 69
RB: Elseid Hysaj (Napoli) - 79
CAM: Coutinho (Liverpool) - 85
ST: Daniel Sturridge (Liverpool) - 84
LM: Sam McQueen (Southampton) - 63
ST: Pierre-Emerick Aubameyang (Borussia Dortmund) - 86
ST: Moussa Dembélé (Celtic) - 71
CB: José Fonte (Southampton) - 83
LM: Dimitri Payet (West Ham United) - 86
CB: Stefan de Vrij (Lazio) - 82
CAM: Oscar (Chelsea) - 83
So what do you think of? Who do you think will be in the transfer? Share your ideas. Of course, we have to wait for the transfers news to be confirmed. But now you can still pay attention to our website to get news. What's more you get a chance to get cheapest FIFA 17 coins as we have discounts sometimes. Follow our facebook and you can get a discount code. enjoy the game!