FIFA 17 Winter Transfers Guide
u4fifa
Date: Dec/21/16 22:56:56
Views: 39
There are two times for FUT 17 transfers, which are summer transfer and January transfer. FUT 17 transfers reflect what is happening in the real transfer market. As winter transfers mostly take place during the January. This page will introduce you basic information of the January transfers, probable release date, frequently asked questions, etc.
It's easy to understand what is transfer card. In real life, when a player moves to the new club, EA will release a new card of that player as we have mentioned that EA replicates what is happening in the real pitch. Once the cards are released, they will be available in packs with new clubs. The stats, the ratings keep the same. When these new cards replace the old cards, the old one can only be found in the transfer market. If you want to get the new version, you need to do as you always do, that is to buy.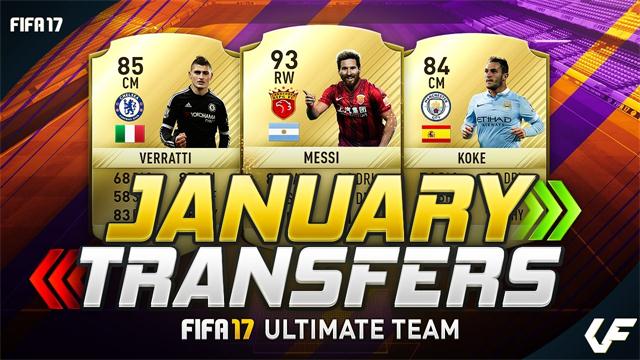 So when will the transfers happen? In FUT 16, winter transfer batchs mainly took place during the January and Februray. It is probable that FUT 17 winter transfer batches will take place during the January and February. As for game players who are keen on making a profit by investment must care about the market. When a player goes to a popular club, then the price of him would be increased. But after several days, the price tends to be normal. Even though a player moves to a less popular club, the speciality would make him rare, thus the price of him would be slightly up. While we do know that EA would stablize the market. The best chance to invest is better on such a condition that there is no more new cards coming from the packs and they become rarer. Buy and sell.
You must get questions about the winter transfers, so here are frequently asked questions (FAQ).
Q: How long will the new cards be available in packs?
They will remain in packs until the end of the game, replacing the day 1 cards, or eventually until a new transfer card be released.
Q: Do players on loan also get a new card?
Of course, they do. A player gets a new card just as long as he starts playing in the new club.
Q: Why can't I find a player that was among the winter transfers?
Probably because he played for a club that isn't in FUT 17 in the beginning of the game. Only players that were once in the game's initial database will potentially get new cards, otherwise they won't be there, not even if they're moving to a FIFA 17 licensed club.
Q: Can a transferred player receive an upgraded card?
Yes, he can. Although EA Sports try separating player transfers/player upgrades, there are rare cases in which the same player is both transferred and upgraded at the same time.
Q: What benefits will you get from the transfers?
It will be easier to build squads with good chemistry. You have great chances for improvement.
Do you get useful information here? We will update the transferred players once EA has released. Stay tuned. Want to know potential January transfers? We have predictions on our website you can see. One more thing, we have prepared a big promotion for you. Come to visit u4fifa.com to get 5% discount to get fifa 17 coins cheap!