Frequently Asked Questions
1. How soon can you deliver the FIFA 17 coins & points? Can you guarantee it?
We are one of the largest FIFA 17 coins & points suppliers, and our delivery time is amazing. We can ensure you will get coins within 15 minutes or up to 24 hours that depends on the status of our inventory and the game setting. Our deliver team are devoting themselves to improve the delivery time.

2. How can i contact you in need of FIFA 17 coins & points?
We get 24/7 customer service support for you. You can ask our support team via email or live support and they will be more than happy to solve your problems about payment and delivery. What are you waiting for? FIFA 17 coins & points store here!
Feedback
I ordered points account, received 30 mins after payment, wow, the guys did what they said on the homepage. happy now...

Scott

I have never had a problem and has to be hands down the fastest delivery time! Customer service is amazing :)

Retoric

They are very fast and customer service is always instant. Highly recommend to do business with them!

Kahyargil
FIFA 17 Weekend League Tactics
By Administrator, 11/22/2016
Most game players must have been playing for the qualification of weekend league. To help you win more for weekend league, here weekend league tactics are introduced.
As you may know the weekend league requirements, the key part is how to meet these requirements. The tactics introduced here might or not suit your playstyle, but it can help you win more. Let's check below.
Custom Tactics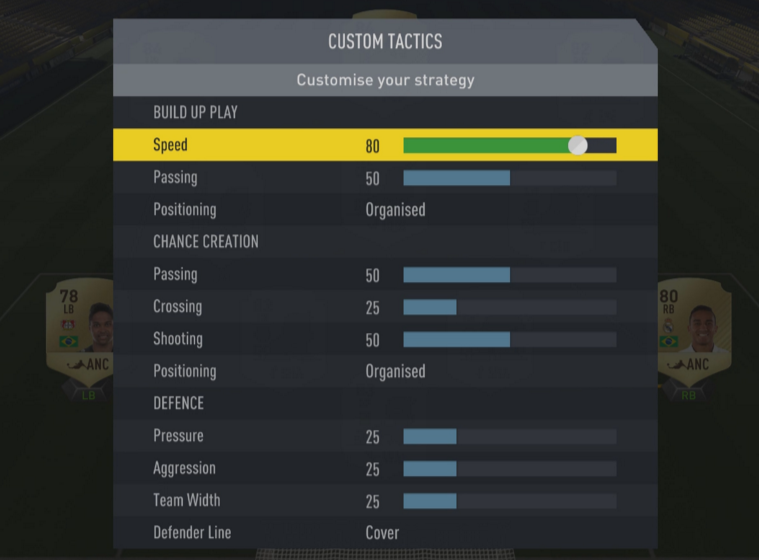 Build up and chance creation is organized above so that your attacks wouldn't be stagnated, because the focus of this style is to constantly move the ball around. Organization is important when you're making a lot of passing triangles, and also you need to rely on your players' positioning. Stay patient. Loads of passing and mix up your play to stay unpredictable.
Then let's take a look at something. Speed is important when you're trying to attack. Your players need to react very quickly. As for the passing, it can't be too short or too long. Everything relies on reacting to the game creating space by constantly moving the ball in triangles or across the pitch. And also when you are playing, defensive or park the bus tactics are also important. Meanwhile, moving the ball constantly will create more space for you. With the speed and passing sliders, it is easy for your team to receive the ball. It's a less direct style of play because you need to make more passes than usual to make it work.
This tactic favors possession and is bad at crossing (25). Short range crosses are ok, and your players are smart enough to get into decent positions (shooting 50). You can use this for wide and narrow formations, and even in the wide ones the crossing is not great. For the formation, you can have a try with 4321 formation.
The custom tactics is not for everyone, and it may work for some people. If you are relying on the crossing, this one doesn't suit for you. Of course, you get your own playstyles. Just be patient. By the way, the in-game curency FIFA 17 coins is needed for the game. You can totally get cheapest FIFA 17 coins on our website. Then coupon code is available on our facebook, follow us to get the coupon code to save money!