Frequently Asked Questions
1. How soon can you deliver the FIFA 17 coins & points? Can you guarantee it?
We are one of the largest FIFA 17 coins & points suppliers, and our delivery time is amazing. We can ensure you will get coins within 15 minutes or up to 24 hours that depends on the status of our inventory and the game setting. Our deliver team are devoting themselves to improve the delivery time.

2. How can i contact you in need of FIFA 17 coins & points?
We get 24/7 customer service support for you. You can ask our support team via email or live support and they will be more than happy to solve your problems about payment and delivery. What are you waiting for? FIFA 17 coins & points store here!
Feedback
I ordered points account, received 30 mins after payment, wow, the guys did what they said on the homepage. happy now...

Scott

I have never had a problem and has to be hands down the fastest delivery time! Customer service is amazing :)

Retoric

They are very fast and customer service is always instant. Highly recommend to do business with them!

Kahyargil
FIFA 17 Movember Cards Revealed
By Administrator, 11/02/2016
Once again EA have partnership with Movember foundation to help raise awareness for men's health throughout the entire month of November. To promote the event, EA have revealed Movember cards. Footballers like Zlatan Ibrahimović, Blaise Matuidi and Alexandre Lazazette are joining this event.
Players who take part in will be recognized in FUT with brand new special edition Movember items (moustaches or not), available until Nov 30th.These cards will be available in packs for a whole November. During the event, FIFA 17 Movember Cards will replace the corresponding cards. If you have one regular card of Movember players, your card will keep unchanged. If you want the special version, you need to buy the new card.
The players (24 players) chosen to get one of the FIFA 17 Movember cards are shown in the following picture: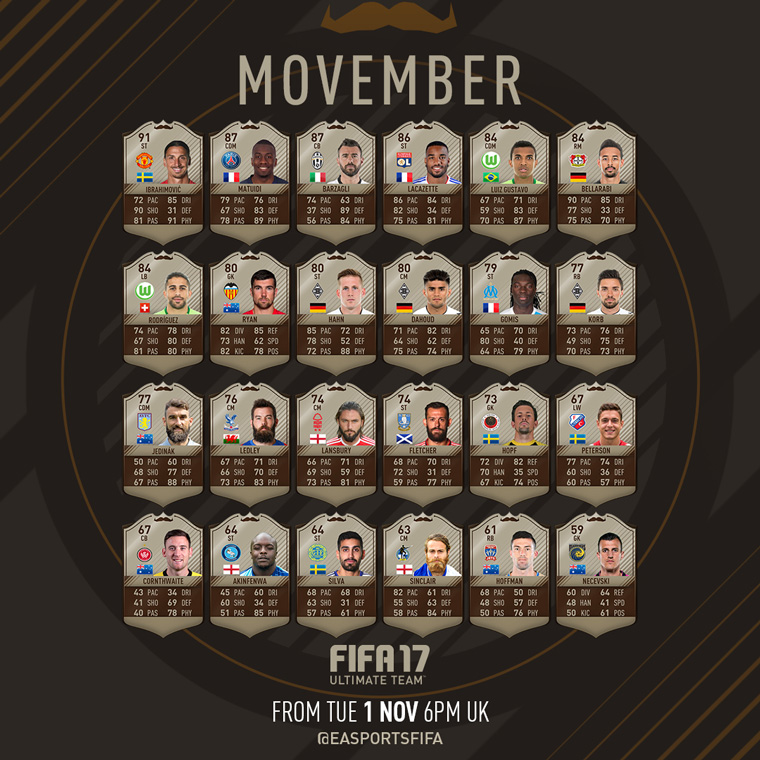 And also there is a special squad building challenge featuring the event, once you've completed the challenge, you will get Movember kit designed by Emilio Sansollini as a reward.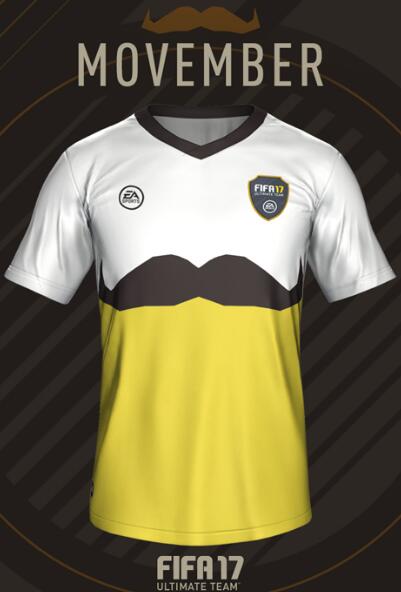 The ratings and stats of the FIFA 17 Movember cards keep unchanged, and the players physical attribute will be boosted with extra 5 points. Of course, these cards won't affect the market price although they are sold for higher price. FIFA 17 Movember cards can be found in any pack with players cards. Finding one of these cards are higher if you open a pack which contains more player cards. You can get a Movember card in the same way you can get any other card: on packs or on the transfer market. If you want to try your luck on packs, you can go to the store and buy them with coins or FIFA Points.
You can check the whole post via EA's official website. So may you good luck and complete the squad builder challenge to get the kit! If you are worried about the lack of FIFA 17 coins, you can get cheap FIFA 17 coins on our website. And our coupon code is still "ALL-V2SVW", giving you 5% discount. You can follow our facebook (bottom of the homepage you can see) to get the latest news about the coupon code!