FIFA 17 Marquee Matchups SBC Predictions
u4fifa
Date: Nov/26/16 00:26:47
Views: 58
It seems gamers love to do Marquee Matchups squad building challenges as once you've completed, you can earn FIFA 17 coins, and player packs. The new round of Marquee Matchups squad building challenges are live. When you finish these challenges, you will get Premium Gold Jumbo Pack x 1. So what will the next Marquee Matchups be?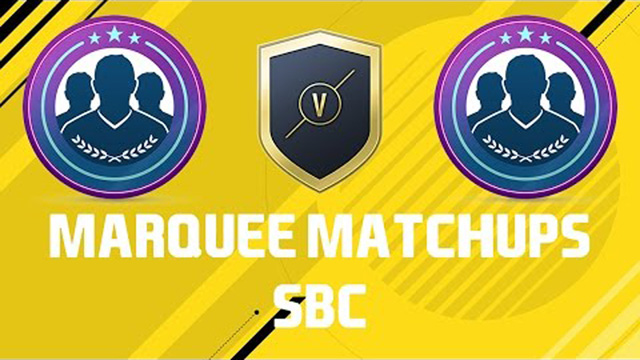 Gamers have predictions on the community. Here is a guy Masakari666 listing out his predictions on the reddit.
Week1
Napoli x Inter, 2/12
Barcelona x Real Madrid, 3/12 - El Clasico
Porto x Braga, 3/12 - Northern Portugal Rivalry
Fenerbahce x Besiktas, 3/12 - Instanbul Derby
Roma x Lazio, 4/12 - Roma Derby
Feyenoord x Sparta Rotterdam, 4/12 - Rotterdam Derby
Urawa Red Diamonds x Kashima Antlers, 3/12 - J-League Final, 2nd Leg, doubt it but EA might go for it as an "outsider" matchup
Week2
MLS Cup Final, 10/12 - aka the league's title decider, teams TBD
MK Dons x AFC Wimbledon, 10/12 - rivalry due to team location change and fans resistance to it
Derby County x Nottingham Forest, 11/12 - East Midlands Derby
Boca Juniors x River Plate, 11/12 - Superclasico
Torino x Juventus, 11/12 - Derby della Mole
Manchester United x Tottenham Hotspur, 11/12
PSG x Nice, 11/12 - might pop up because of Nice being league leaders
Benfica x Sporting, 11/12 - Lisbon Derby
RSC Anderlecht x Club Brugge, 11/12
Week3
Juventus x Roma, 17/12
Melbourne City x Melbourne Victory, 17/12 - Melbourne Derby
Manchester City x Arsenal, 18/12
Barcelona x Espanyol, 18/12 - Barcelona Derby
Ajax x PSV, 18/12 - De Topper
Everton FC x Liverpool, 19/12 - Merseyside Derby
Belenenses x Sporting, 21/12 - Lisbon Derby
Bayern Munich x RB Leipzig, 21/12 - might pop up because of Leipzig's insane run, currently leaders
You can invest in the following like:
Scarce positions: many teams only have 1 player in a single position (for ex only 1 LB), or only 1 Gold player in a single position (the team has 2 LBs but the other is Silver), and many MMs only use Golds, so if you identify those, they are a safe bet for buying / investing.
Non-rare Golds: tying in to that, there are many non-rare cheap golds that can be invested in for 400 coins and sold for double, triple, sometimes even more.
Req Team Rating: for SBCs with a higher required team rating, slower high rated players are great.
Quantities: usually most of them are 2 or 3 players from each team, and then X number of nationalities or players from the same league.
You can take a look at his post and guess whether if it is worth a try. But you may get your own predictions. What do you think of? Black Friday Promotion is live. All our customers can get a 5% discount for all our products with the discount code "BF2016".