FIFA 17 Legends: How Do You Rate Your Legends
u4fifa
Date: Jan/03/17 22:21:31
Views: 128
Speaking of FIFA 17 Legends, who do you think is worth? Some Legends are overpriced, but there are some legends are completely worth it. You must have experience with your legends, how do you rate? Here let's see the gamers how to rate Legends by price and influence from FIFA 17 community.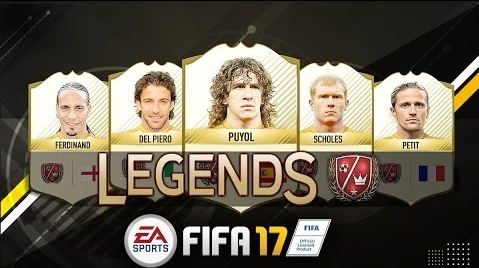 Lalas - 86 - 260K
His current futbin price is 264k. Best defender and be good at long shots. Playing him as a CAM and his dribbling is amazing. His finesse shot is extremely dangerous as well.
Bergkamp - 90 - 910k
His current futbin price is 909k. Best CAM in the game after maybe Del Pierro. Using deadeye chemistry which basicly gives him about 99 passing and shooting. He averages a goal and an assist. Scoring is just so easy with him, if you know how to finish he scores about 1/2-3 shots.
van der Sar - 89 - 270k
His current futbin price is 279k. He is a good keeper, who is consistent with great reflexes. His height makes him very good things stop longshots.
Petit - 87 - 825k
His current futbin price is 815k. He is all over the pitch and is probably the best box to box midfielder after Matthäus. Some gamers may choose him out of his left foot which makes hitting those longshots easier, which he is also very good at because of the long shooter trait. However he will be dead at the end of the game though, so if you are going into extra time in WL make sure to have a sub for him.
Kluivert - 88 - 720k
His current futbin price is 708k. One of the most clinical strikers in the game. He is tall, strong, fast and has great finishing. There are better strikers out there but for his price it won't get any better.
Donovan - 86 - 250k
He's a brilliant ST/CF/CAM, and he makes hard-to-use players like SBC Jonas or Gio much more viable. If you like a faster Firmino do-everything type, it's okay to get him.
Davor Šuker - 88 - 300-325k
His current futbin price is 300k. He has solid pace and excellent shooting. He's tall, strong, good on the ball, can pass, 4* WF/skills.
Overmars - 88 - 425k
His current futbin price is 439k. Similar to Mertens if you play, but he is faster, a little taller, has 5* WF and links with everyone (obviously).
van Basten - 91 - 700k
With a Catalyst card he gets the needed pace and makes up for his low passing stats. He is strong, tall, and can score from just about anywhere. But you will need a sub if you are going into extra time.
Effenberg - 86 - 500k
His current futbin price is 508k. Although he is listed as a CAM, with M/H work rates and a Shadow card, he is unstoppable as a CM or CDM. Strength, height, all around solid player. He has low stamina though so he will get tired and need a sub around the 70th minute playing as a CM.
That's all gamers' experience with their legends. What about yours? How will you rate your legends? Tell us your thoughts. For gamers who want to get fifa 17 coins cheap, we have discounts here. But the promotion will end next week. Hurry up and get the discount code. You can check our online store U4FIFA.com to get. Any questions you can ask for customer service.