Frequently Asked Questions
1. How soon can you deliver the FIFA 17 coins & points? Can you guarantee it?
We are one of the largest FIFA 17 coins & points suppliers, and our delivery time is amazing. We can ensure you will get coins within 15 minutes or up to 24 hours that depends on the status of our inventory and the game setting. Our deliver team are devoting themselves to improve the delivery time.

2. How can i contact you in need of FIFA 17 coins & points?
We get 24/7 customer service support for you. You can ask our support team via email or live support and they will be more than happy to solve your problems about payment and delivery. What are you waiting for? FIFA 17 coins & points store here!
Feedback
I ordered points account, received 30 mins after payment, wow, the guys did what they said on the homepage. happy now...

Scott

I have never had a problem and has to be hands down the fastest delivery time! Customer service is amazing :)

Retoric

They are very fast and customer service is always instant. Highly recommend to do business with them!

Kahyargil
FIFA 17 Hybrid Nations Squad Builder Challenges
By Administrator, 10/31/2016
The latest Hybrid Nations squad building challenges (SBC) are ready for players to complete. There are four challenges: Quad, Sixes, Crazy Eights and Ten Nations. After finishing all these challenges, you will gain Gold Players Premium Pack x 1 and 5,000 Coins.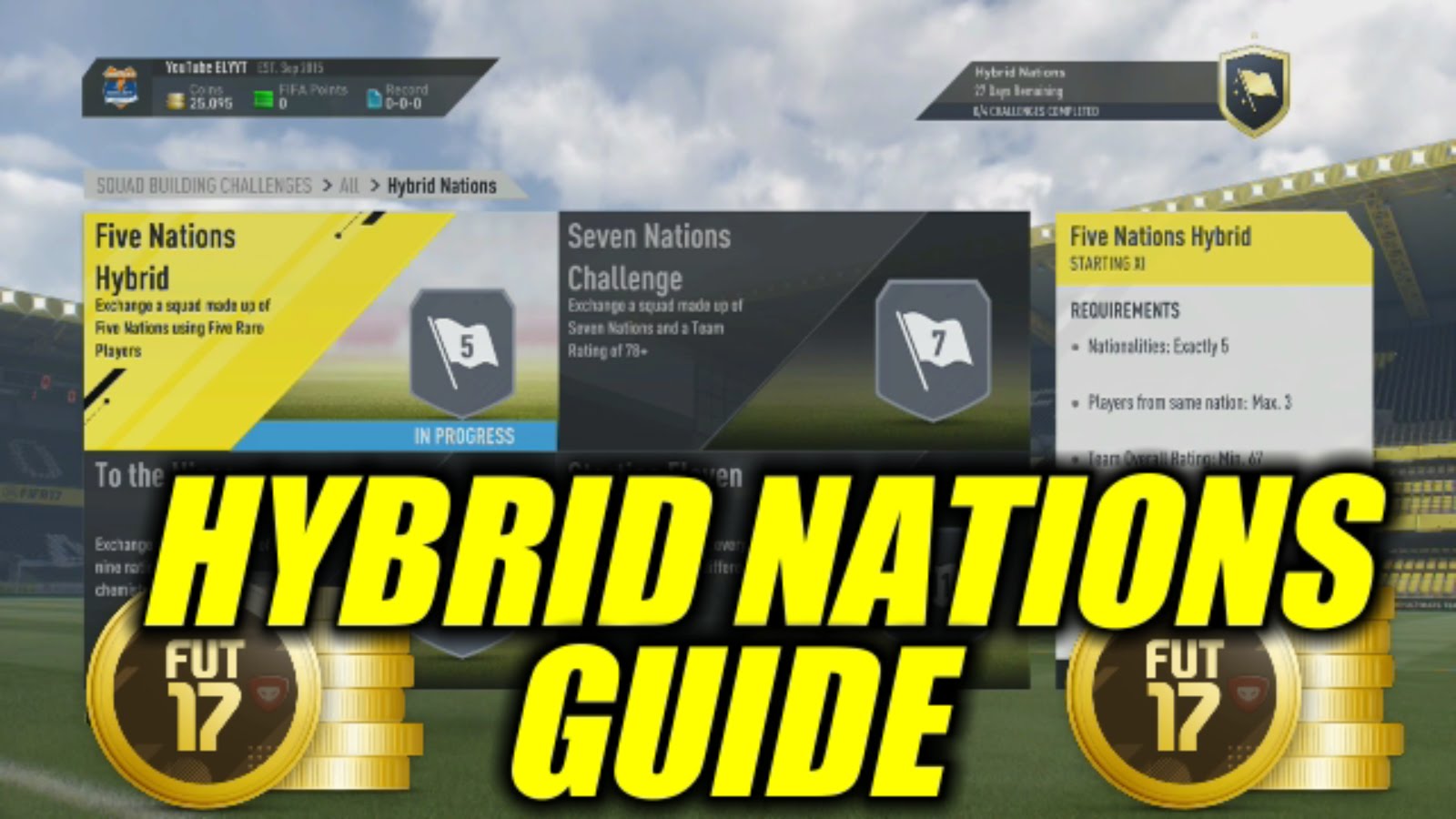 Challenge 1: Quad
For this challenge, among the 11-player squad from 4 different nations, there are at least 4 rare players, max 4 players from the same nation. The minimum team rating and chemistry should be reached 77 and 70 respectively. Once you've completed the challenge, you will gain Gold Players Premium Pack x 1.
Challenge 2: Sixes
The challenge is to exchange a squad made up of six nations with six rare players. At the same time, max 2 players from the same nation. The squad is to reach at least 79 team rating and 80 chemistry. The reward is Prime Gold Players Pack x 1.
Challenge 3: Crazy Eights
This challenge requires at least 8 rare players, max 3 players from the same nation among the squad from the exact 8 nations. It is set to reach the minimum 68 team rating and 88 chemistry. After finishing the challenge, the rewards Two Rare Gold Players Pack x 1 & 2,000 Coins are earned to you.
Challenge 4: Ten Nations
For the challenge, you need 11 gold players from the exact 10 nations to reach the 100 team chemistry. It seems easy to finish. After you complete the challenge, you will obtain Gold Players Premium Pack x 1.
Have you completed Hybrid Nations SBC? If not, go and get the rewards as the challenges are simple to finish. However, our website make a big promotion to help our loyal customers to get up to 15% discount on Halloween. That means you can get cheapest FIFA 17 coins! That is just one day on Halloween! Besides, 5% off with coupon code "hallowen" is given. If you want the 15% discount, products worth than 20 dollars will earn you the coupon code from our email, if not, then connect us.