Frequently Asked Questions
1. How soon can you deliver the FIFA 17 coins & points? Can you guarantee it?
We are one of the largest FIFA 17 coins & points suppliers, and our delivery time is amazing. We can ensure you will get coins within 15 minutes or up to 24 hours that depends on the status of our inventory and the game setting. Our deliver team are devoting themselves to improve the delivery time.

2. How can i contact you in need of FIFA 17 coins & points?
We get 24/7 customer service support for you. You can ask our support team via email or live support and they will be more than happy to solve your problems about payment and delivery. What are you waiting for? FIFA 17 coins & points store here!
Feedback
I ordered points account, received 30 mins after payment, wow, the guys did what they said on the homepage. happy now...

Scott

I have never had a problem and has to be hands down the fastest delivery time! Customer service is amazing :)

Retoric

They are very fast and customer service is always instant. Highly recommend to do business with them!

Kahyargil
FIFA 17 FUT Champions Monthly Rewards and Qualification
By Administrator, 11/03/2016
EA have updated FIFA 17 FUT Champions Monthly Rewards for Ultimate Team (Weekend League) this week. To get the rewards, you must be qualified.
In order to get the rewards, EA confirmed that those who will have Gold 3 or above in rank will be automatically qualified for the next weekend league. FUT Champions Monthly Rewards are shown in below image.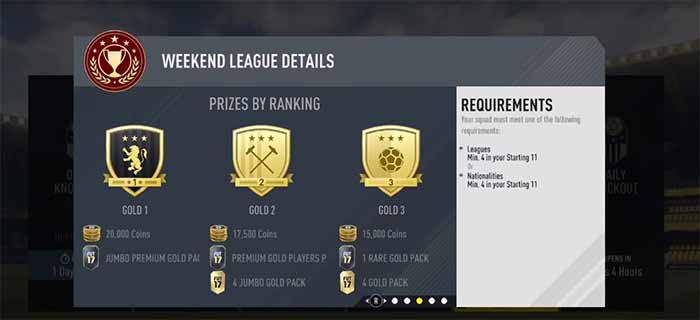 You can also see FIFA 17 FUT Champions Rewards.
For people who are not qulified to the Weekend League, there are three ways that you can get into. First, you may know the Daily Knockouts. These new tournaments expire in 24 hours and have different rewards and requirements. If you want to qualify, you will need to win four consecutive games in one of these Daily Knockouts of the previous week. Second, online FUT seasons. All you need to do is to play at least one season in the previous week. You will be qualified under 3 conditions: promoted from division 2 to division 1; hold on the division 1; won the division 1 title. Last is weekend league. Electronic Arts decided that, starting in November, the best FUT Champions players don't have to qualify to play the Weekend League. That means you will be qualified if in the previous Weekend League you reached any of these tiers: Gold 3, Gold 2, Gold 1, Elite 3, Elite 2 and Elite 1.
And also reddit user ninjaciego has posted the FUT Champions Schedule Requirements & Rewards that you can check in. Hope you can be qualified for the Weekend League. Hold on and it seems some players still can't obtain access to it. Enough coins for game will get you prepared well for the game, so you can get cheap FIFA 17 coins on our website to help you save money. The coupon code is "ALL-V2SVW", giving you 5% discount. The news about coupon code will be updating on our facebook "U4FIFA". Welcome to follow us to see!
Related News