Frequently Asked Questions
1. How soon can you deliver the FIFA 17 coins & points? Can you guarantee it?
We are one of the largest FIFA 17 coins & points suppliers, and our delivery time is amazing. We can ensure you will get coins within 15 minutes or up to 24 hours that depends on the status of our inventory and the game setting. Our deliver team are devoting themselves to improve the delivery time.

2. How can i contact you in need of FIFA 17 coins & points?
We get 24/7 customer service support for you. You can ask our support team via email or live support and they will be more than happy to solve your problems about payment and delivery. What are you waiting for? FIFA 17 coins & points store here!
Feedback
I ordered points account, received 30 mins after payment, wow, the guys did what they said on the homepage. happy now...

Scott

I have never had a problem and has to be hands down the fastest delivery time! Customer service is amazing :)

Retoric

They are very fast and customer service is always instant. Highly recommend to do business with them!

Kahyargil
FIFA 17 Companion App Updated to Improve Experience
By Administrator, 12/07/2016
Some game players complain that FIFA 17 companion app is not working. And now for this time, EA has made some improvements to give you better SBC experience. Let's check what's new in the app.
FIFA 17 Companion App Update
Added Coin Price Paid on all items in the app
Made it easier to get back into SBC when doing a Transfer Market Search
Removed the Loyalty Bonus from Concept Players in SBC for more accurate Chemistry
Added support for multiple combinations of Clubs, Leagues, Nationalities, and Qualities in SBC
Updated Player Name Search for improved accuracy
You can also see the new contents in the below image that EA got to say.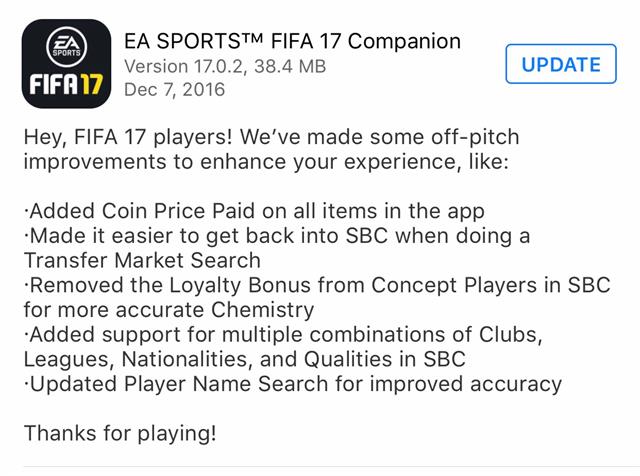 So what do you think of? Most players feel happy to have these improvements. They say it's a good time that EA updated this. Then some people feel EA still needs improvements, like "make it more convenient and allow sbc's to be completed on the web app." Of course, any questions about FIFA 17 can be reflected to EA and they will make adjustments.
As Christmas is approaching, and it appears that EA updated the companion app squad screen with snow. Some people may guess if it is a sign that 17 days of FIFA offers will start tomorrow. It is just a speculation and we don't know the certain release date. If you still don't know what is "17 days of FIFA ", you can check on our website.
Check: 17 Days of FIFA Guide for FIFA 17
I guess you will expect the coming offers. By the way, our website do have promotions for the upcoming Christmas, that means you can get cheapest FIFA 17 coins on that day! Stay tuned.