Frequently Asked Questions
1. How soon can you deliver the FIFA 17 coins & points? Can you guarantee it?
We are one of the largest FIFA 17 coins & points suppliers, and our delivery time is amazing. We can ensure you will get coins within 15 minutes or up to 24 hours that depends on the status of our inventory and the game setting. Our deliver team are devoting themselves to improve the delivery time.

2. How can i contact you in need of FIFA 17 coins & points?
We get 24/7 customer service support for you. You can ask our support team via email or live support and they will be more than happy to solve your problems about payment and delivery. What are you waiting for? FIFA 17 coins & points store here!
Feedback
I ordered points account, received 30 mins after payment, wow, the guys did what they said on the homepage. happy now...

Scott

I have never had a problem and has to be hands down the fastest delivery time! Customer service is amazing :)

Retoric

They are very fast and customer service is always instant. Highly recommend to do business with them!

Kahyargil
FIFA 17 Career Mode: How to Grow Young Players Fast
By Administrator, 12/15/2016
As you may know some of the potential young players, and young players get potentials in FIFA 17 Career Mode which may help you a lot. Either you can sell the players to make a profit, or keep them to be the top. So here are several tips to help you grow young players to their maximum potentials.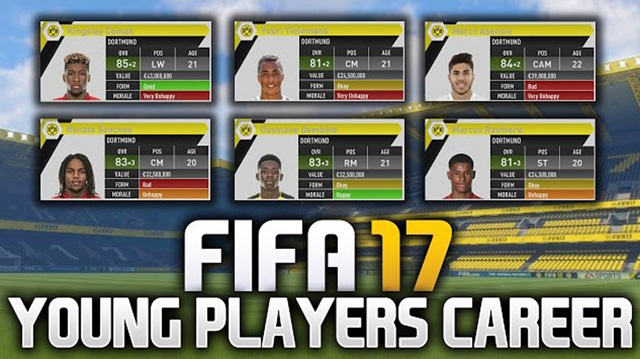 First of all, you need to know all the potential wonderkids. You can check the official statistics about all the wonderkids. If you just want to fing them by yourself, but these players are not available, then here is a way - manual scouting. This mostly comes from sending your scouting team out with instructions to find players who are "promising". It can be done with these instructions: from the main hub to Transfers > Global Transfer Network > Instructions > Atrributes > Promising. At the same time, check on the "First team Quality" to find promosing players.
At the same time, paying close attention to top goal scorers, assists and clean sheets, because youth players who top these charts within their respective leagues are either very good for their age or simply on a hot streak especially in lower divisions. So it is advised to monitor players under the age of 21 who top these charts.
Second, develop your youth academy. In the early period of your manager career, you can choose to focus on transfers or put the money towards hiring youth staff, and developing an academy. Taking care about their growth, if they are not developing as you wish, you can sell.
Then you have to develop your young players. The first step is to play them in the game. Initially it may be a little difficult for you to figure their strength and weakness, but their OVR would be increased at the end of the game. Use the players who show the sign of the great development in your main squad, or use them as back ups, subs or rotation players.
Below are some tips:
Create a "youth" team in squads for unimportant games
Consider your cup run a chance to play Youth players
Identify early on who is the understudy of your main players (as in , the second best player)
Don't see injuries as a hindrance, see them as an opportunity for youth
Use your bench as a chance to give youth players 20-30 minutes in a won game
The second step is to loan them out. This can give your players chance to develop, but there are also some things you need to take care.
1. Do a scouting report on the team that have moved for your player, and understand why they are loaning him.
2. Condsider loan your players who are at young age or low rated than your subs and reserves, and give time to develop.
3. Pay attention to the second best player at a particular position, just don't loan out.
Hope these tips can still work for you. Just remember to pay close to the players. Now you guys must be busying with trading, playing for the Weekend League. When you found your coins are in shortage, you can get FIFA 17 coins cheap on our online store. Keep an eye on us! We have discounts you need to save your money.