FIFA 17 Black Friday Guide
u4fifa
Date: Nov/14/16 22:29:27
Views: 33
Black Friday is the start of teh Christmas shopping season, during the event, price is lower to stimulate consumption. To make a profit, EA have offers for the event, which will be gone through from Friday to Sunday this week. The offers like packs, increased chance of finding featured FUT tournaments, daily gifts are probably released. In this page, let's know something about Black Friday, including the market perhaps and FAQ to solve your puzzles.
At the present, what offers will be released is not confirmed yet. All we know the probable offers according to the last year of FIFA 16. The release date is usually set on the fourth Friday of November. So Black Friday will possibly begin on Nov.25th to Nov.27th. I guess what the most game players care about is the market, when is the best time to buy and sell. The market does crash as the price would fall when Black Friday starts. That is impossible the crash will not happen because of Weekend League. When EA release lots of big packs, or in other words, the supply increases, the price is certain to fall. Before the panic in the market, it's better to figure out the market. So here futbin about market is recommanded to you. And here is someone suggesting that sell players, and play a cheap team for once in the Weekend League. There will always be the most demand for high value players right before the weekend league, and the least demand for them on Monday. So you can probably buy on Monday and sell on Thursday before BF.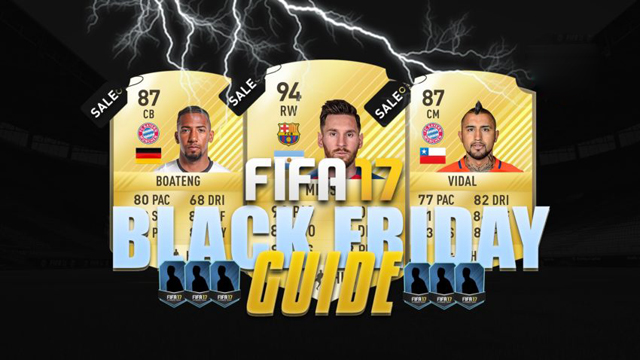 Except those, following are frequently asked questions (FAQ) :
What are Lightning Rounds, when and how do they work?
Lightning Rounds are new rounds of happy hours every three hours in which promo packs are available on the store until they run out. On Lightning Rounds there are a global limited amount of packs to be sold. Lightning rounds will be released on Friday. For example, EA release rare player packs for a certain amount, then you will get as many as you wish on certain hours, but a limit for each individual until that hour has passed even if lightning rounds normal pack offers have no global limit.
What does "increased chance" mean?
At certain intervals throughout the lightning rounds we will see increased chance windows. This means that all packs opened within that hour will have a higher likelihood of containing whatever has been increased.
Are there featured FUT tournaments in Black Friday and how are they released?
Of course, there will be four featured tournaments. On certain hours during the lightning rounds period we will see the release of new tournaments for a limited time. You will have 3 hours to win them and gain special rewards than usual.
Whatever, you care about the market and the best time to buy and sell. So some tips in the article, you can think or not. It depends on you. For FIFA 17 coins, if you wouldn't spend your time farming coins, you can get cheap FIFA 17 coins here. As usual, our coupon code is "ALL-V2SVW", 5% discount. Coupon code news will be updated on our facebook!